In April 2018, after a ~12 month search, I finally found the right EV: a 2013 Nissan Leaf 'G' spec with 10 bars of battery remaining.
(Reasons for this particular decision to be expanded upon…)
I flew to Auckland, met the previous owner at the Manakau ABS Centre (intending to do a quick charge, not realising that a) it was a slow charger b) it was broken), and picked up the car. Money was exchanged, and I was off on my drive back to Wellington.
Normally I'd drive Auckland <> Wellington with a couple of quick breaks. Given I was stopping hourly for a charge, I had some chunks of time to write a short story of my adventure. I used a twitter thread. Here it is.
Landed AKL. Picked up new car. Little more scuffed than I expected but overall exactly what I wanted. Driving home over the next 2 days. Join me on my 600km journey with a car that only does 100km between charges. Should be an adventure!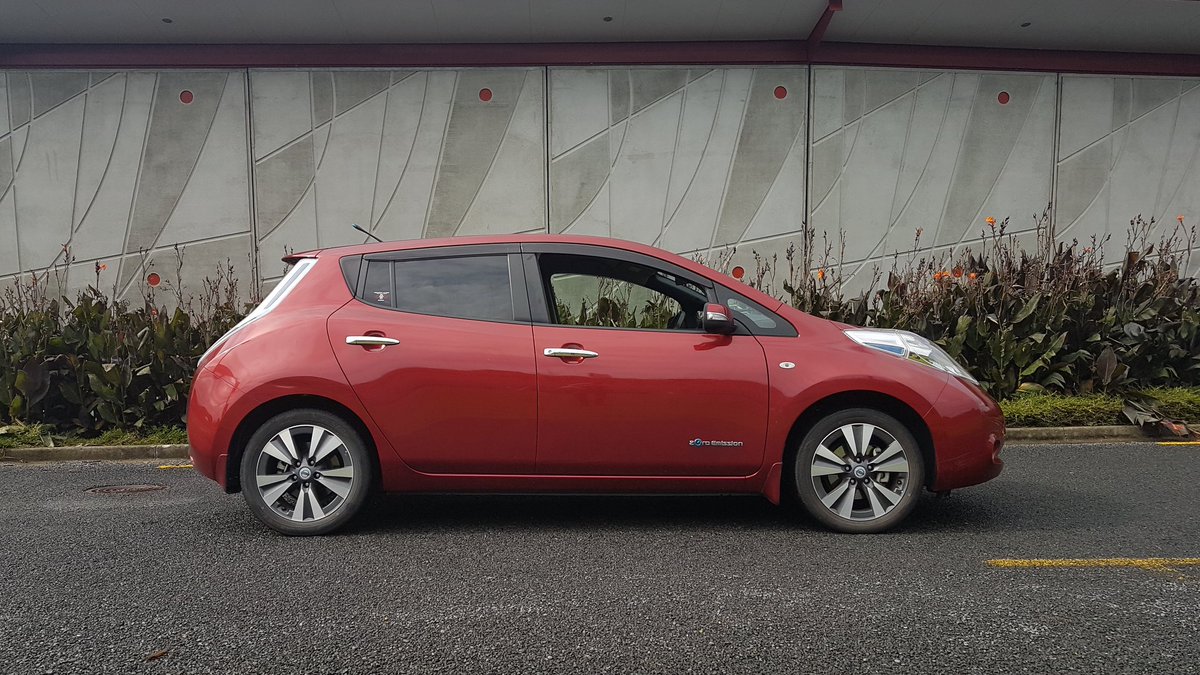 Pick up the car with max 79kms left. Already done ~35kms prior to pickup, so hopeful I do at least 80-100kms between charges. First charger only 10km away.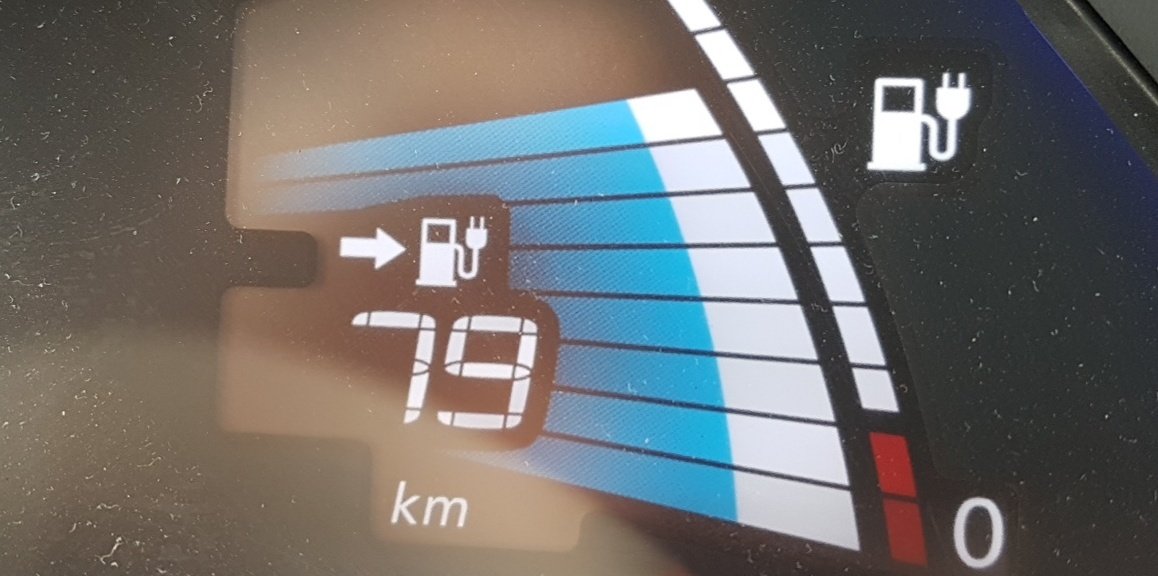 First stop, some
@krispykremenz
goodness to take home to the family. My wife is going to lose her shit.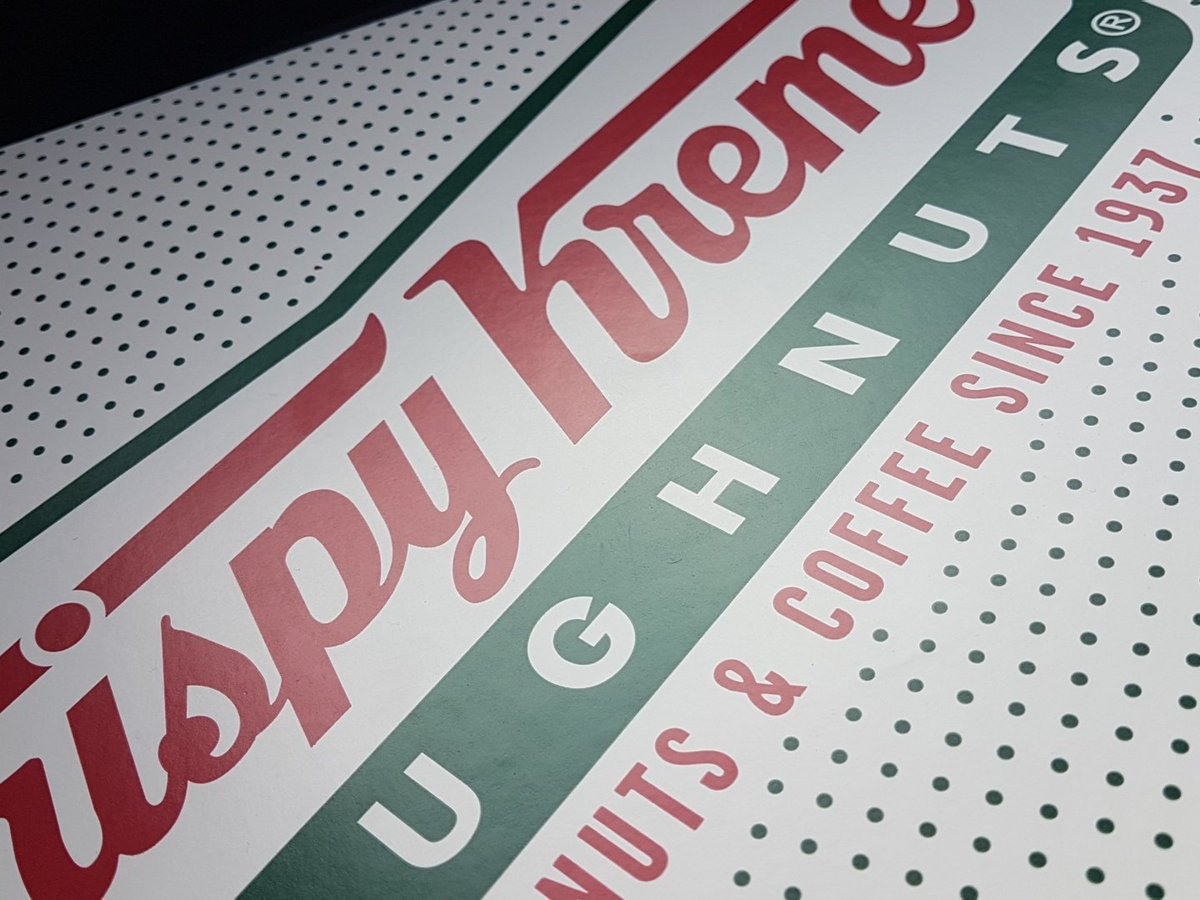 First charging station, CHAdeMO plug in use. What are the chances? How long will they take? How long do I need? Who knows. I have coffee & donuts.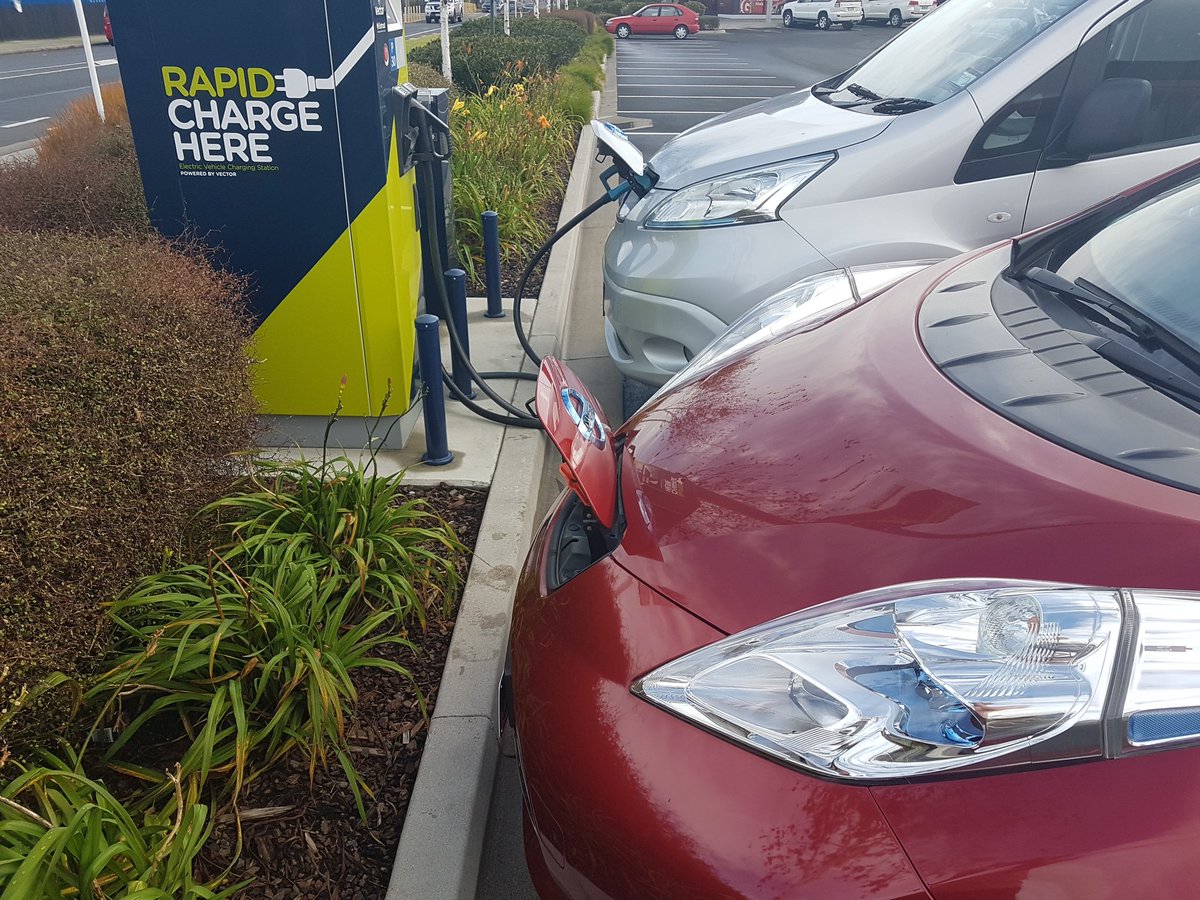 Te Kauwhata is 50kms away so I'm comfortable that a solid 85% of my battery will suffice. Expect that charger to be busy on a Sunday avo. Let's roll!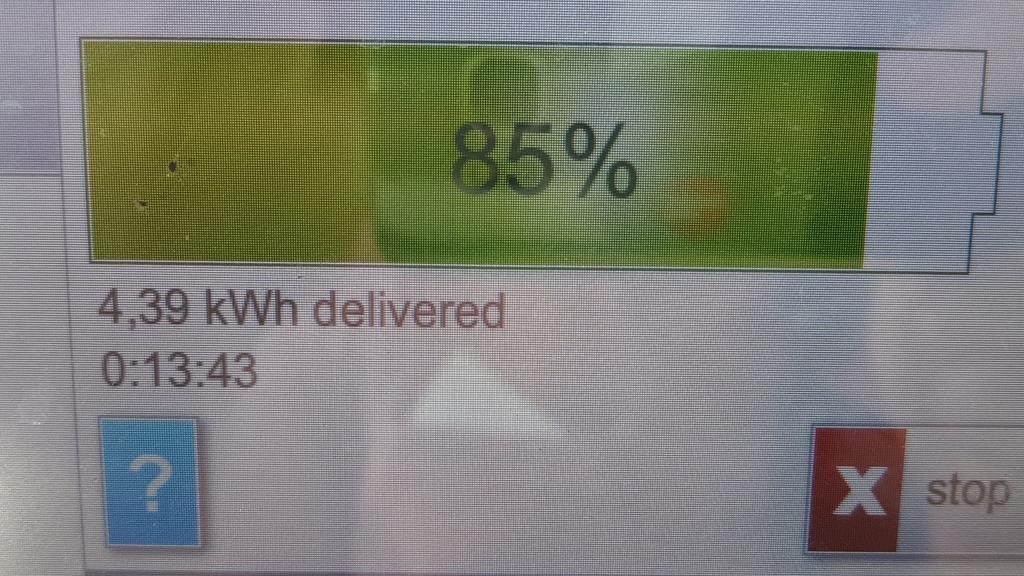 Pulling in beside me, just as my 10min charge was up, were a couple who, get this, had a dark red Leaf, just bought it today, and this was their inaugural charge too. Crazy!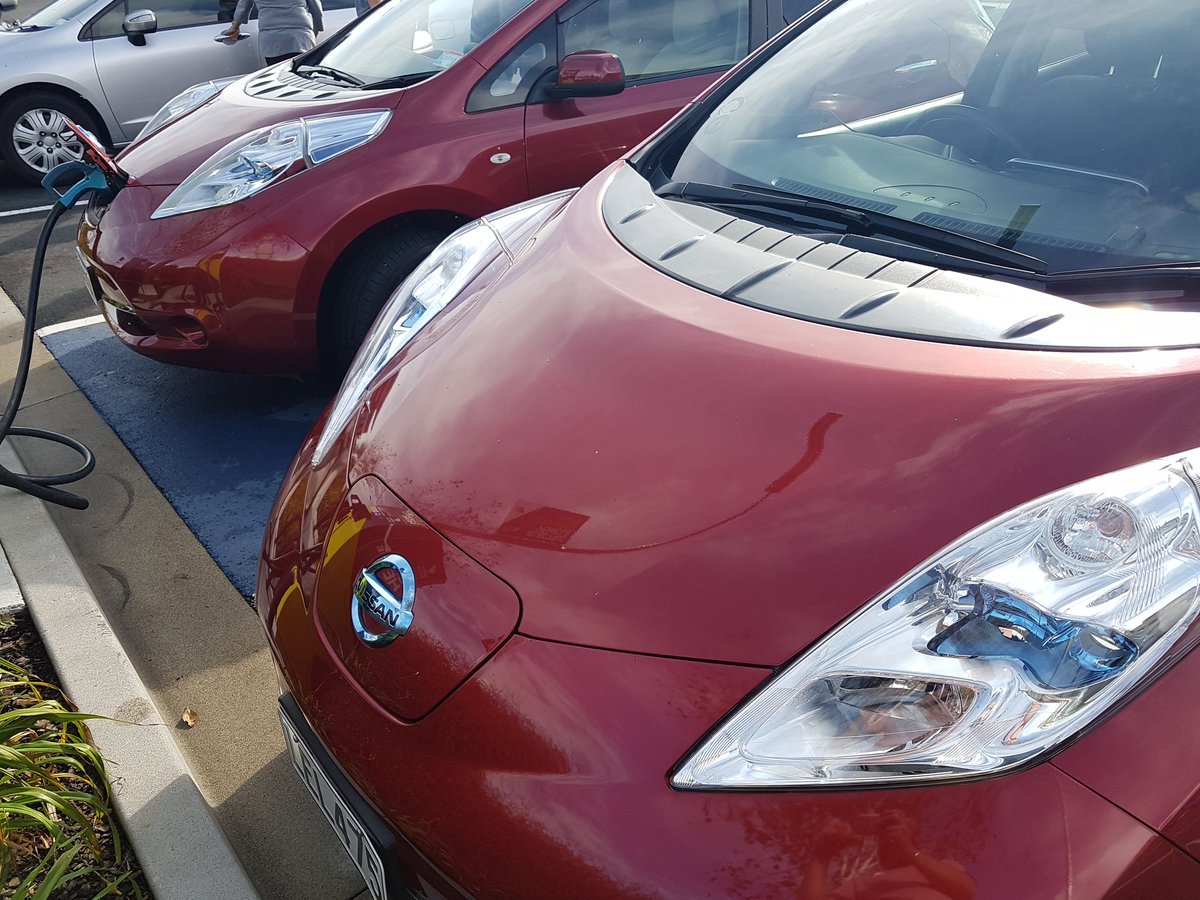 I always imagined these chargers would be next to coffee shops & toilets & amenities, but I am literally feeling like I'm in the middle of nowhere.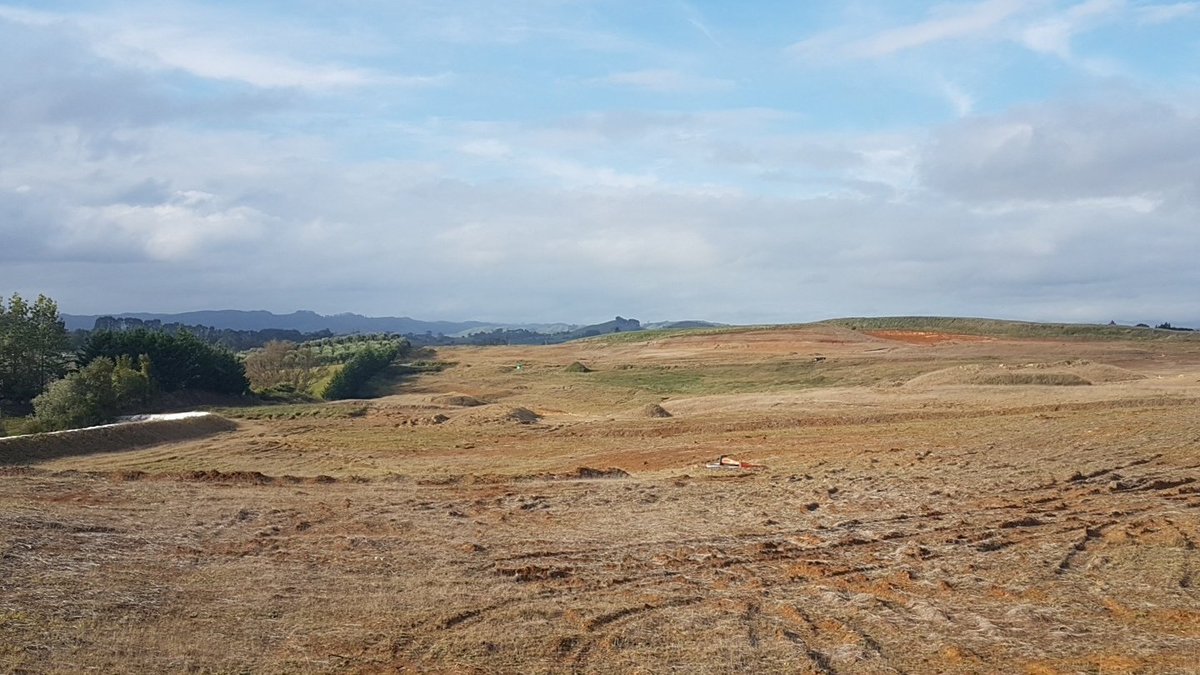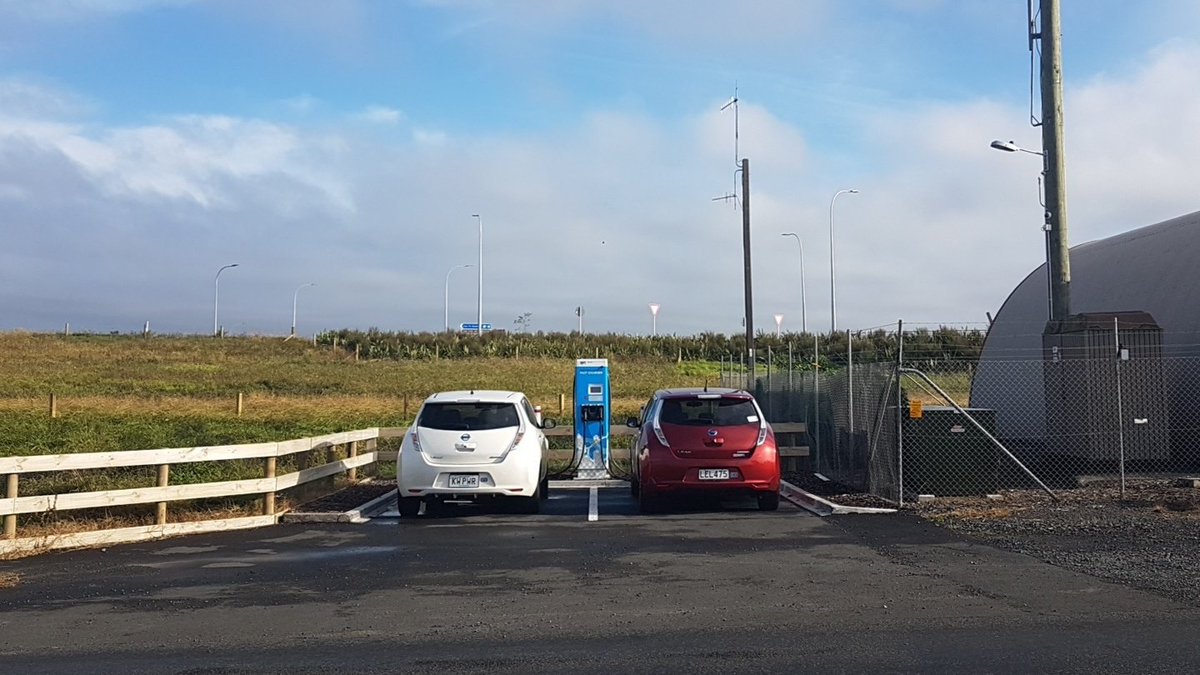 I guess it's free power, but literally, nowhere special. Industrial. At least the charger is available!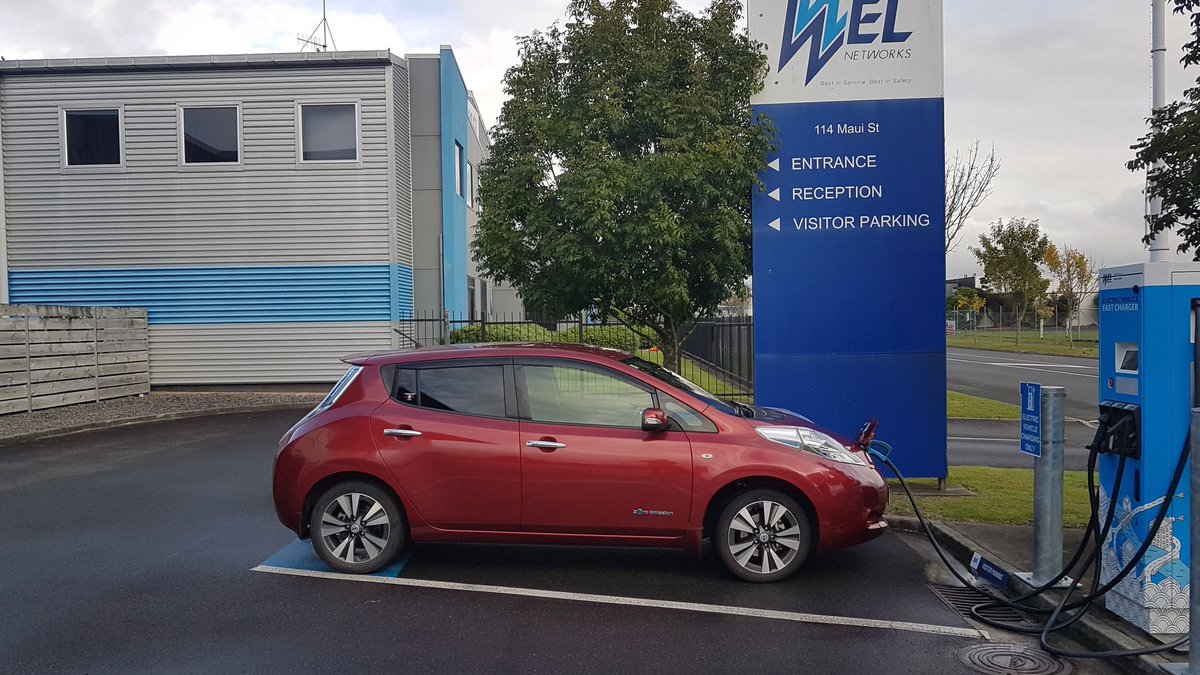 I don't yet feel range anxiety but I have felt will-the-charger-be-working and will-there-be-a-spare-plug and how-many-people-will-i-hold-up anxiety.
I downloaded hours of podcasts but don't know how to connect my phone to the radio, so unless someone can msg me instructions, it's a long quiet journey ahead.
And I mean QUIET. I can hear the tyres on the road. The wind whistling past the butt-ugly headlights. I've driven quiet cars but this is insane. Then again, every car I've EVER owned has been a flat-4 boxer engine. So I'm used to a little noise.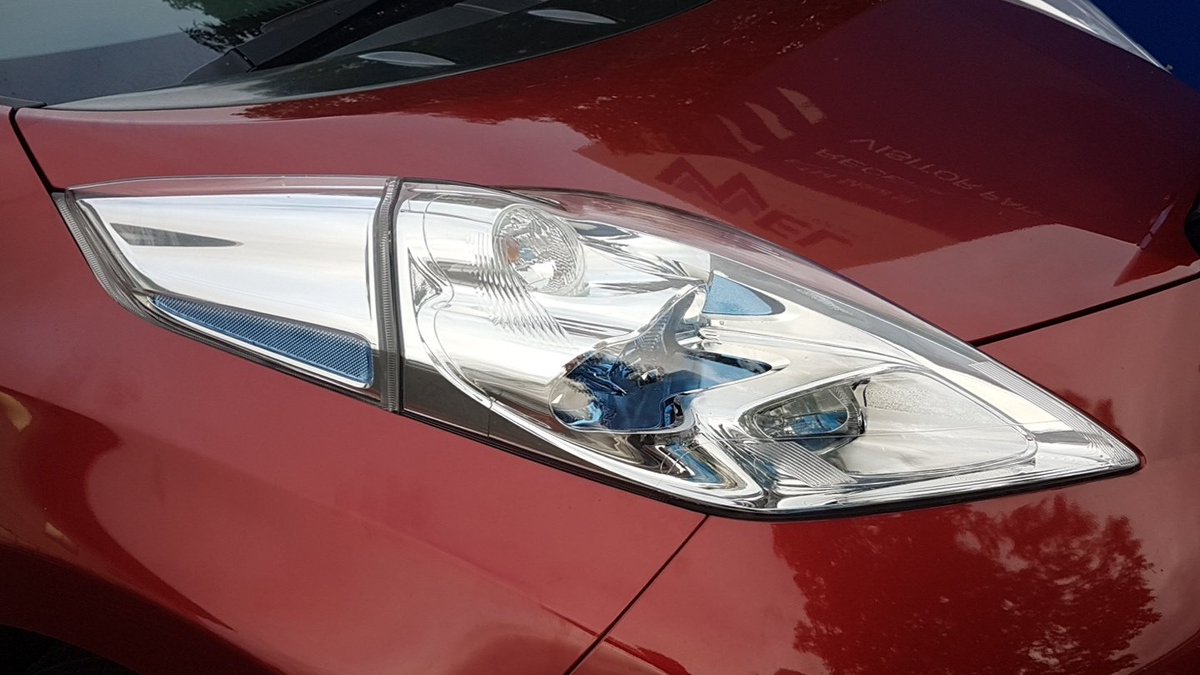 Civilisation! Every road trip deserves at least 1 fast food stop. KFC for dinner it is.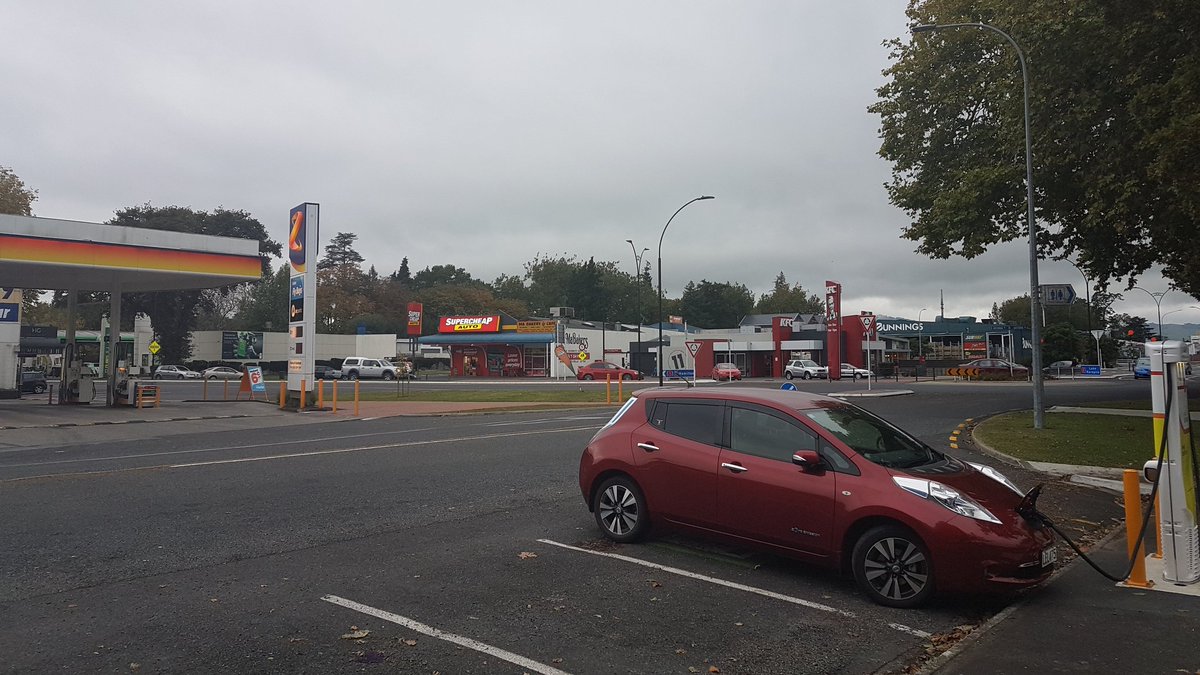 This fast charger took it to 95% faster than I could order & eat a burger+fries combo. Impressive.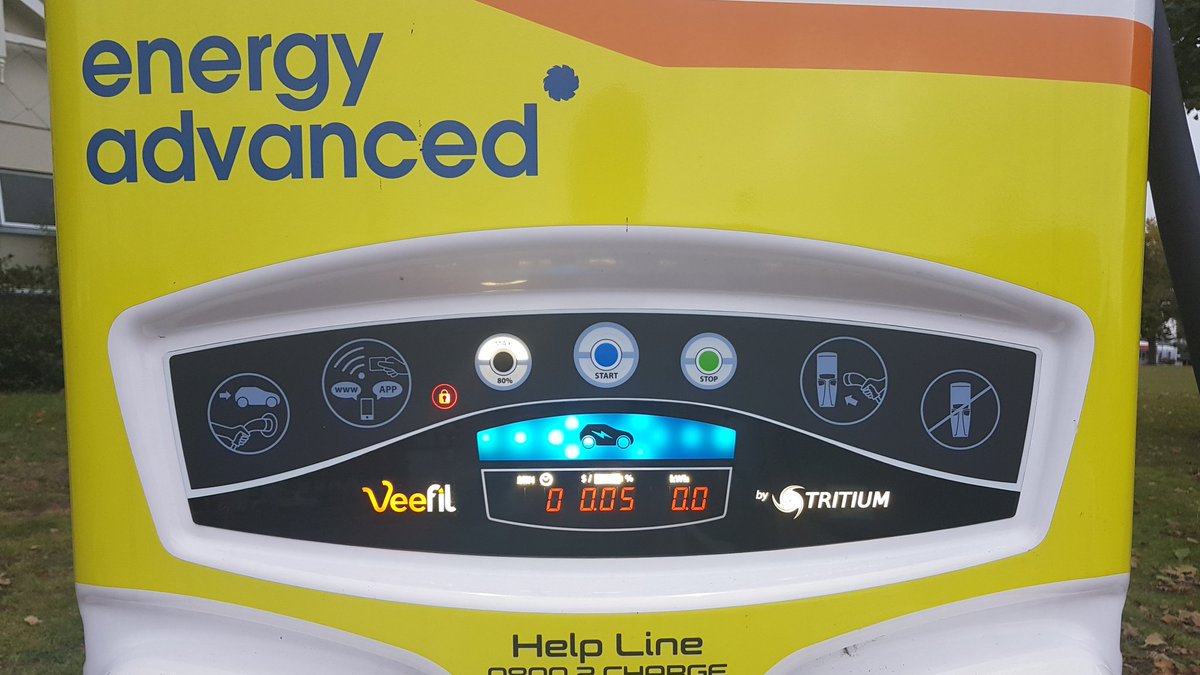 Heading to Rotorua. The next 80km should be the longest leg of my journey. This could make or break my electric car experience. See you on the other side!
Holy Fuck that was nerve-wracking. Open road, fairly undulating hilly Road, arrived with ~19 kms left but had a warning light for the last 20-30. Wouldn't want to do that too often. Need to find some inner charge spots tomorrow.
Stayed with my grandmother in Rotorua. Caught up on
#CommGames
highlights together and heard stories of crossing the Cook Straight on the Tamahine in the 40s.
I used the Hulk bodywash. Naturally.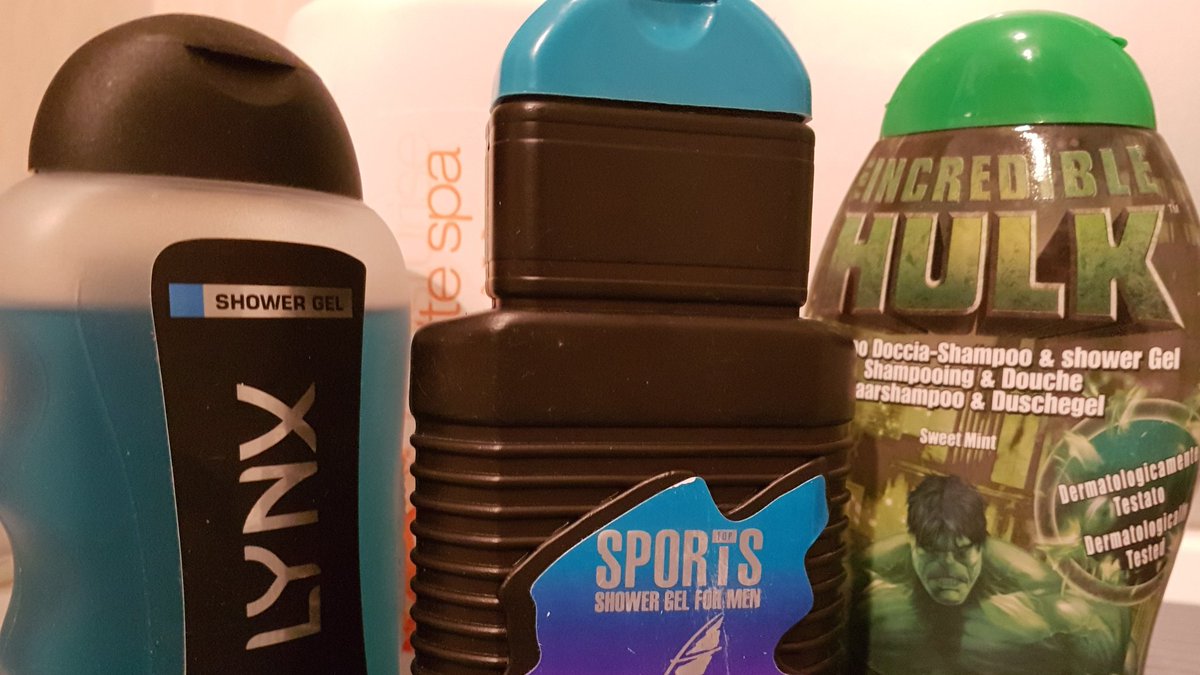 With a proper, long, slow charge – to 100%, sorry purists – things look a little more promising for the next 81km leg…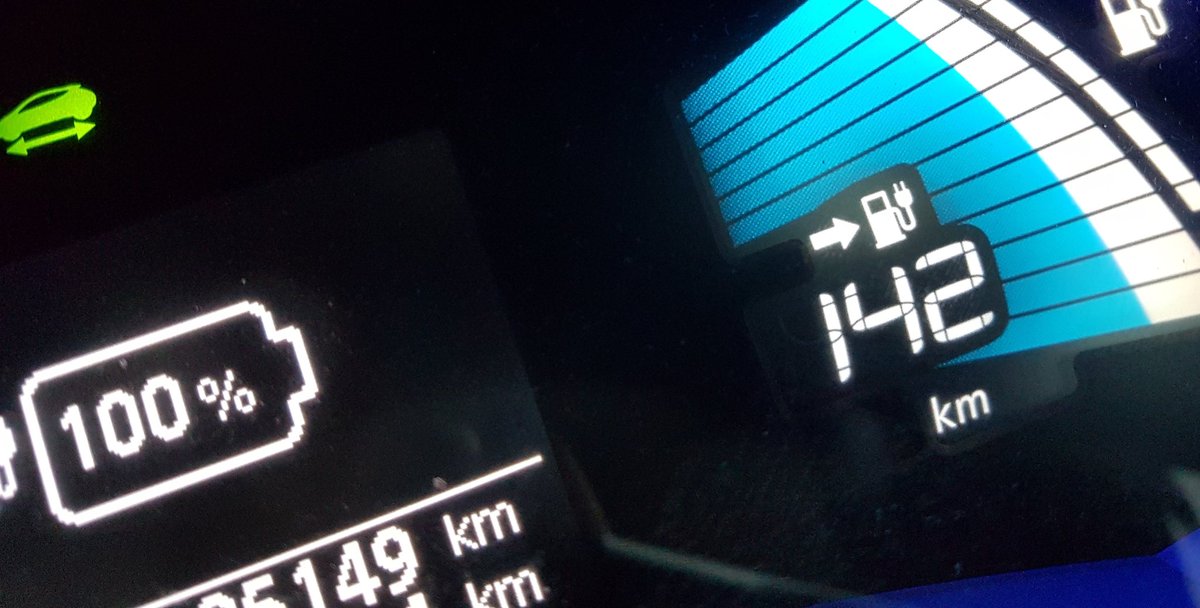 Taupo has 4 tesla chargers – yay for them – but only 1 CHAdeMO, which is currently in use, so I'll have to grab some breaky and come back.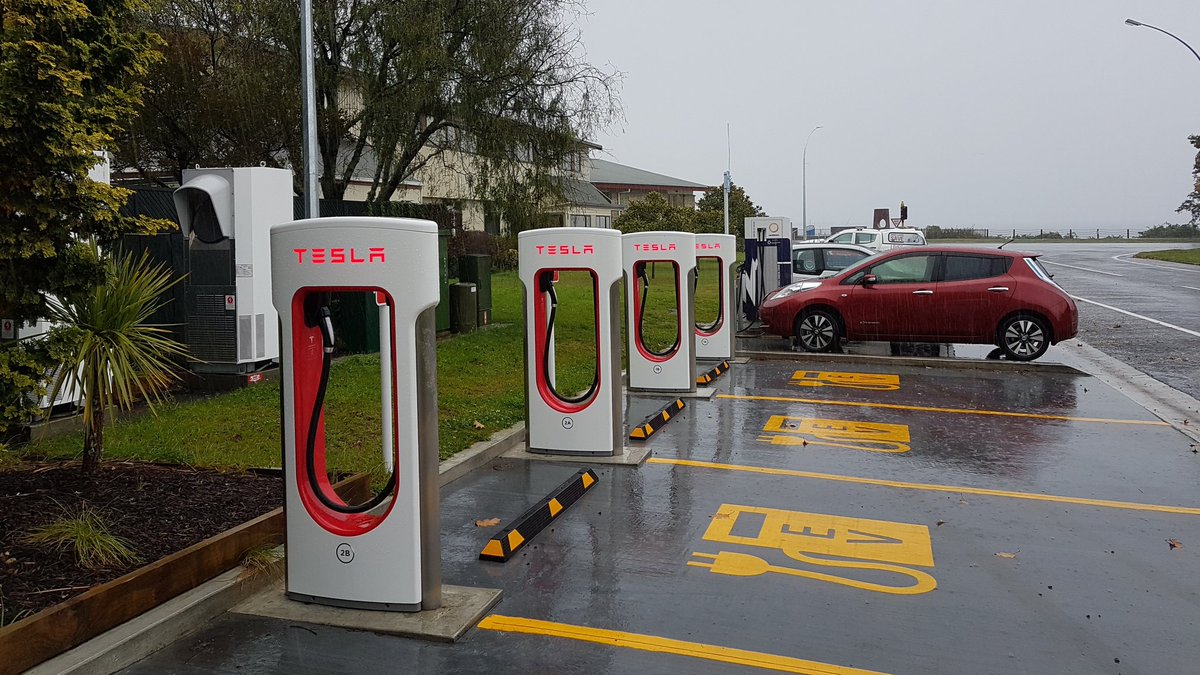 I normally love Taupo, but today is for the ducks. Onwards to Turangi – 43km, should be easy!?!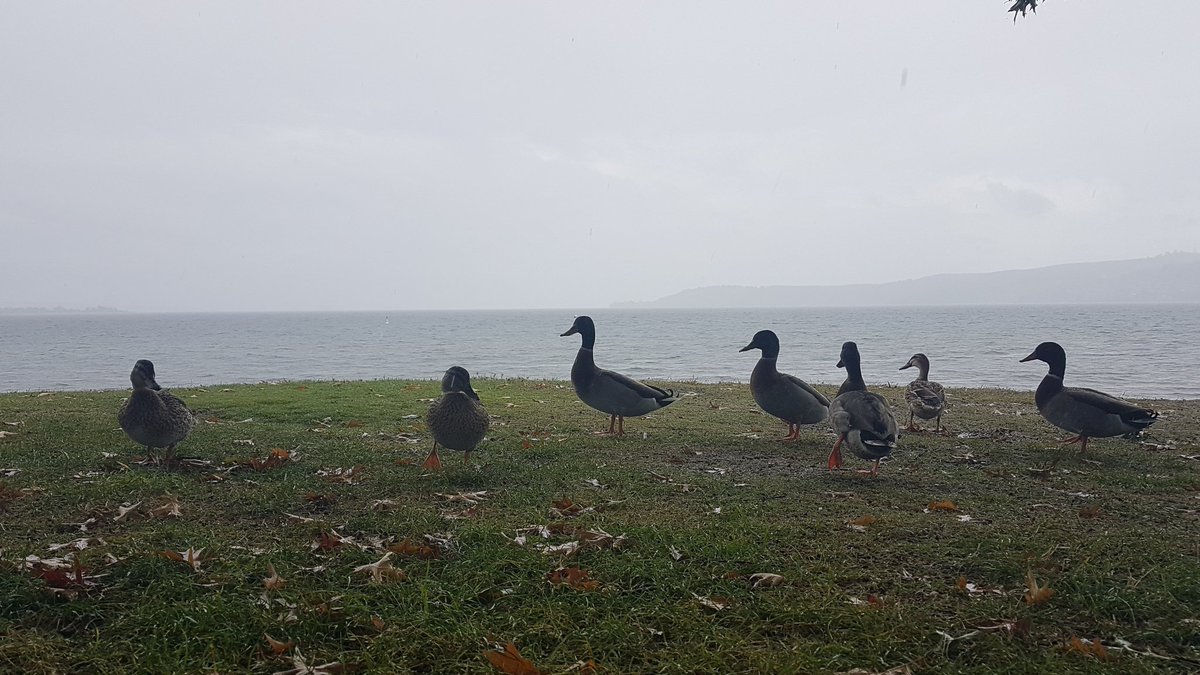 Not forgetting the pack of Minties my grandmother left with me. Bless her!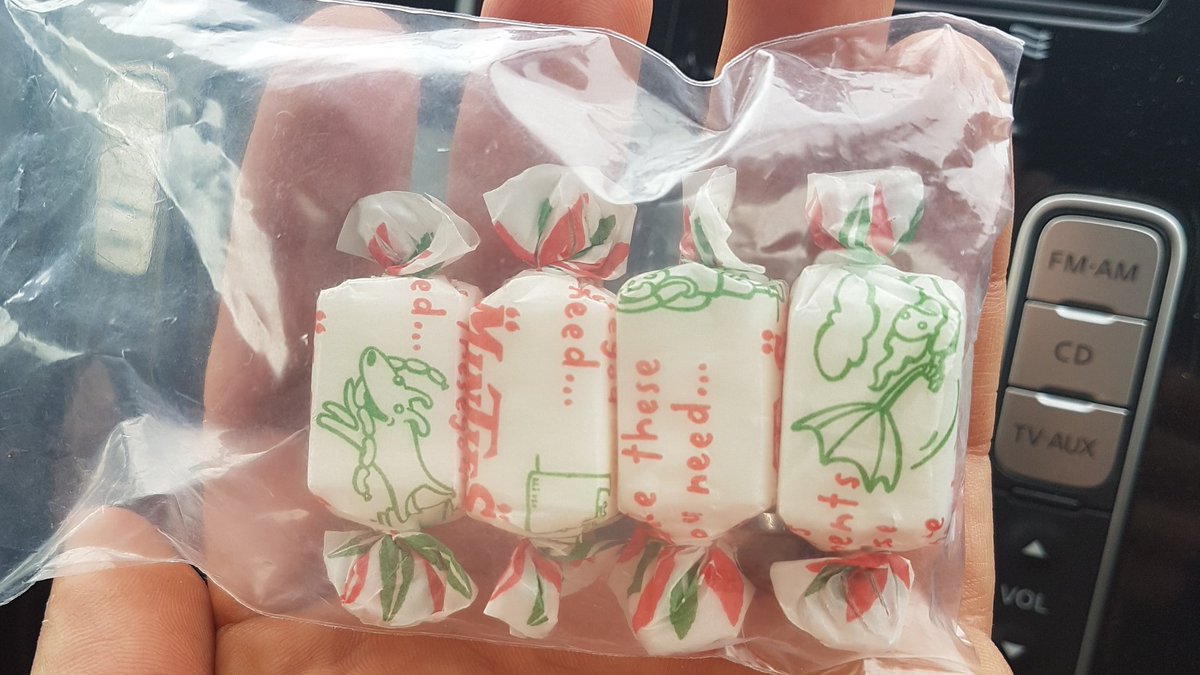 Speaking of grandmothers, I'm driving slower than my Nana would. I'm used to 90-100kph in my Kombi – which can't manage much more – but I'm intentionally doing 80-90kph in order to reduce battery consumption.
… Never have I been so happy to encounter roadworks or a line of traffic. 🙂
This chargenet charger seemed to be free? Didn't need to use my rfid fob. Going to charge MAX, the next leg to Waiouru is undulating & hilly and I'm guessing even 63km might be pushing it. We'll see. At least the last part is all downhill into Waiouru!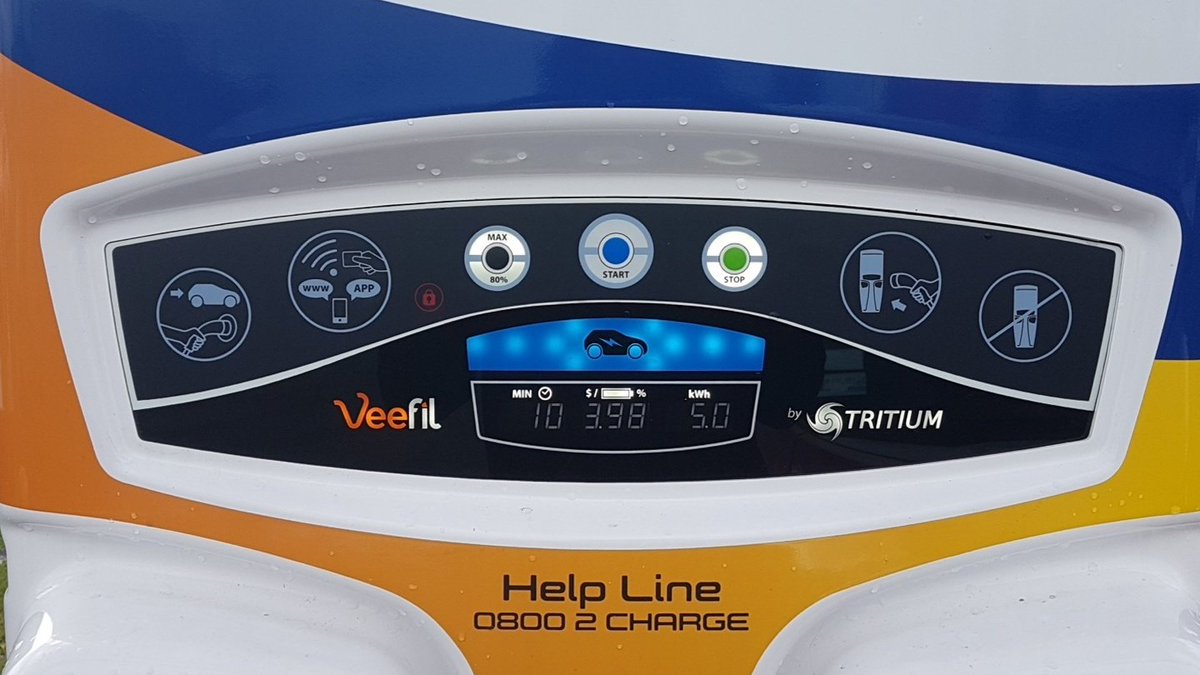 Don't mind me, just wiring together a backup commando plug in case I need a campsite charge later today.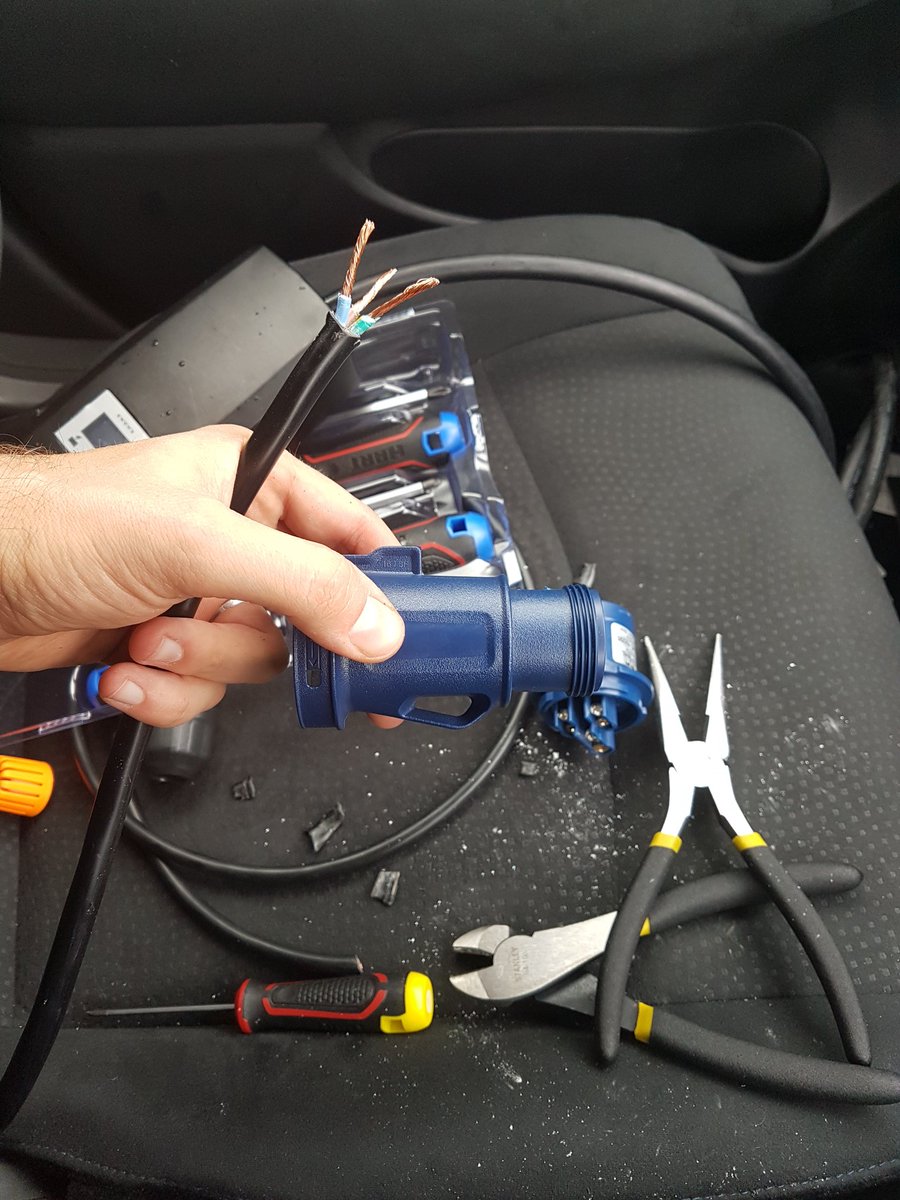 Well that was no drama at all. Unsure if the downhills or the slower speed through the Desert Rd, but still plenty of battery remaining. Hope another EV doesn't arrive in the next 20mins – thanks for parking like a douche HWC531.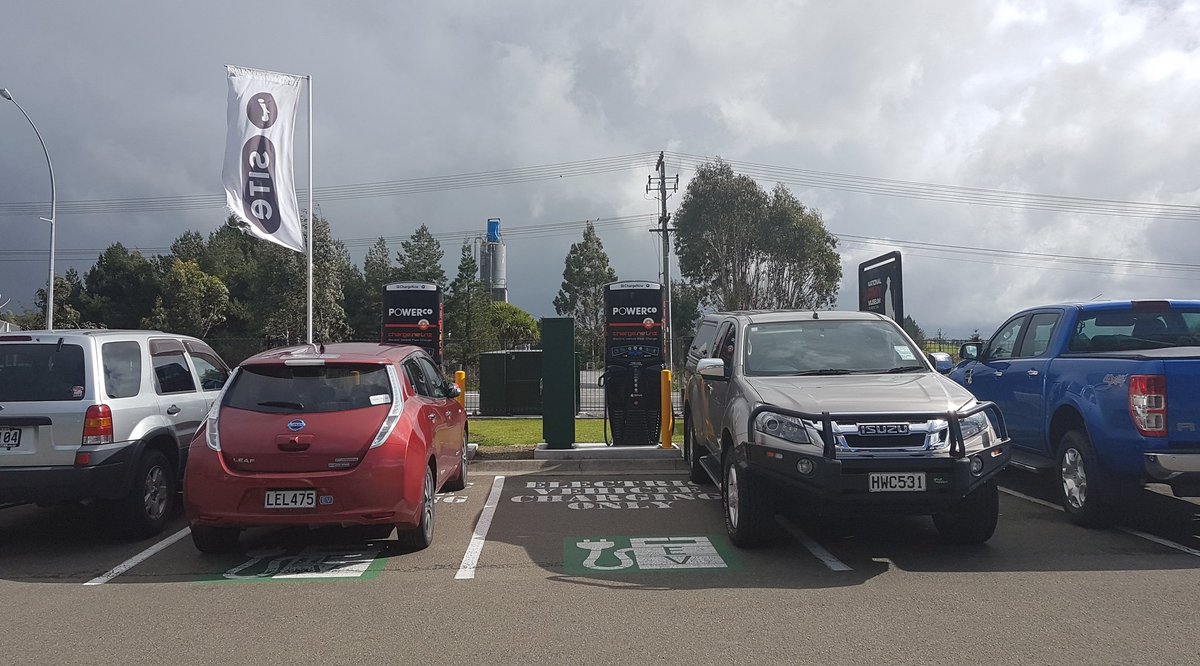 Very cool that I can sit here in a cafe and check on the charging via chargenet.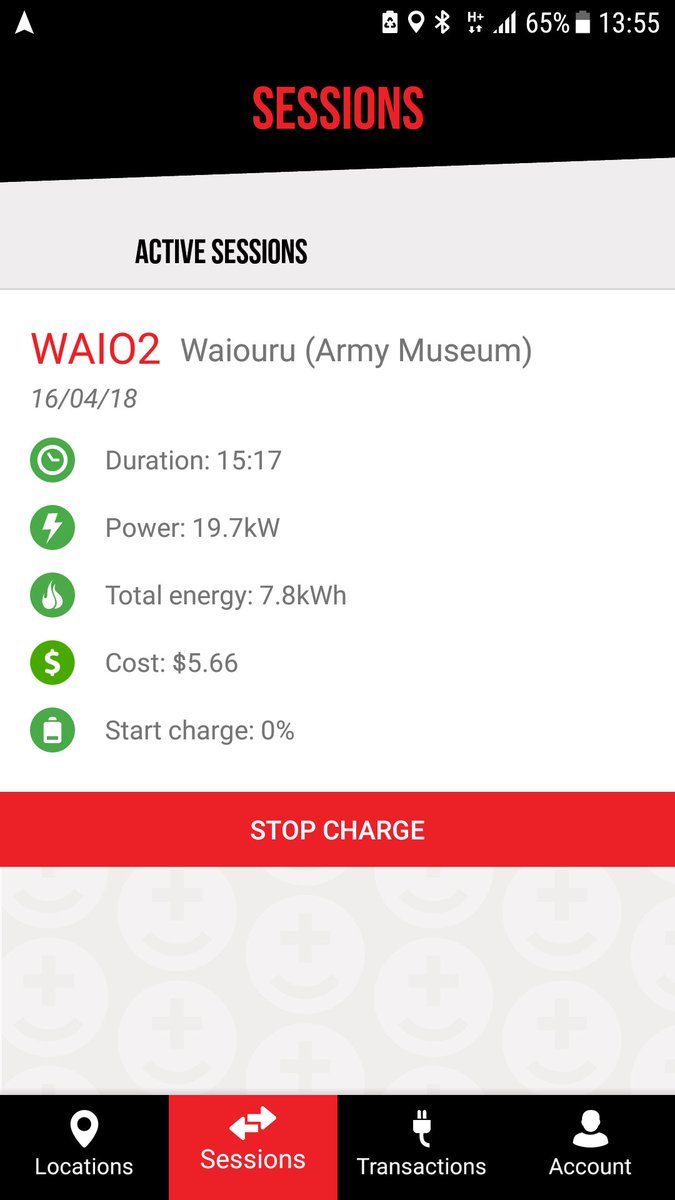 Stopped Mangaweka – Papa Cliff Cafe – for a charge. Next leg is my final big 80km leg. Was going to pop into Flat Hills for a 16A trickle charge over lunch, but I've been suckered into eating here. I'll take the gamble and do the full 80km to Palmy.
Smart cafe owners, getting a charging point here, I reckon. Middle of nowhere.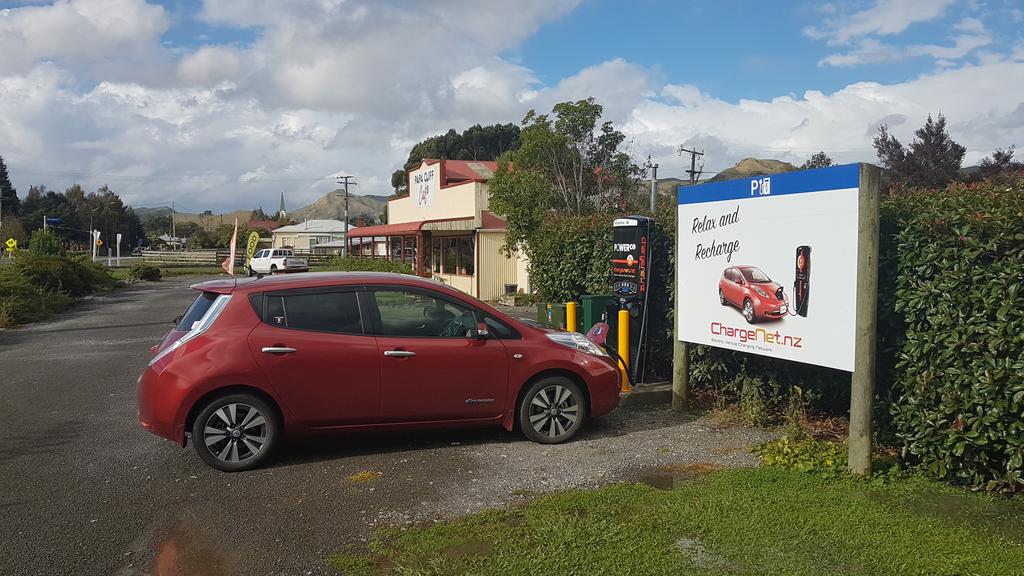 Stormy Point Lookout is stormy.

I've been wondering what this graphic tells me. I like to think it's the trees I've saved on this planet. 2 baby trees and 1/2 big tree would like to thank you this much for driving EV.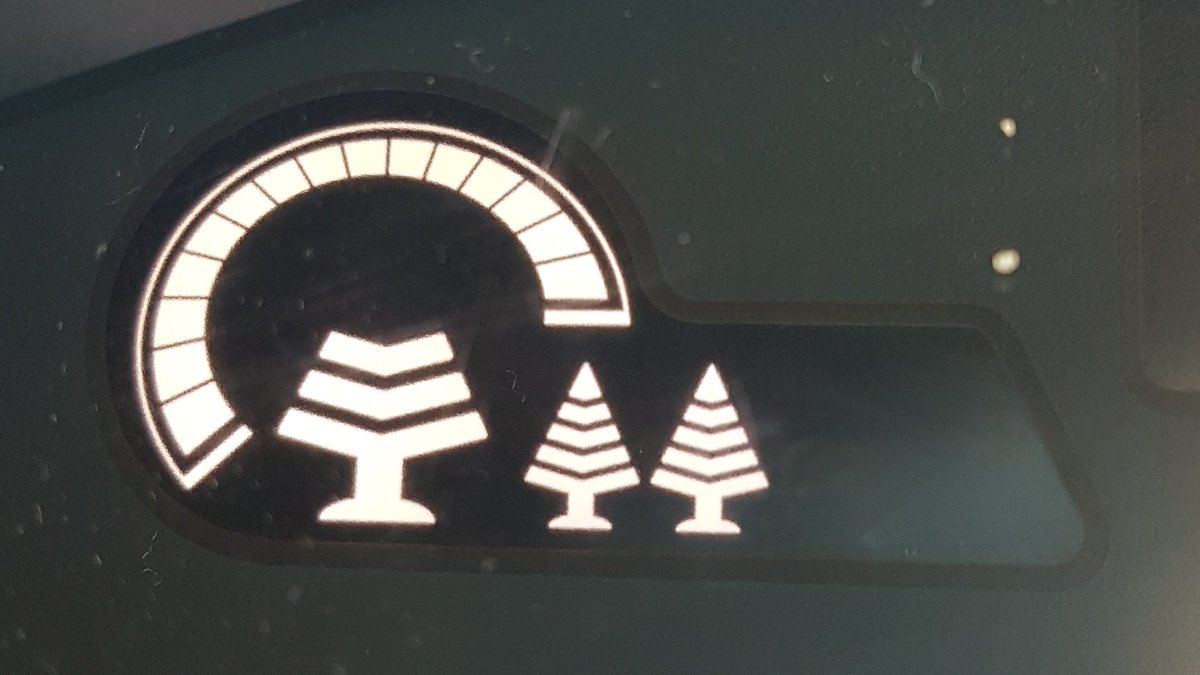 Despite last night's nerve-wracking 80km journey into Rotorua, I arrived into Palmy after 80km with 30% battery remaining. Easy. I pumped up the tyres today, have been driving in Eco, and wonder if flattening + slow-charging the battery last night helped?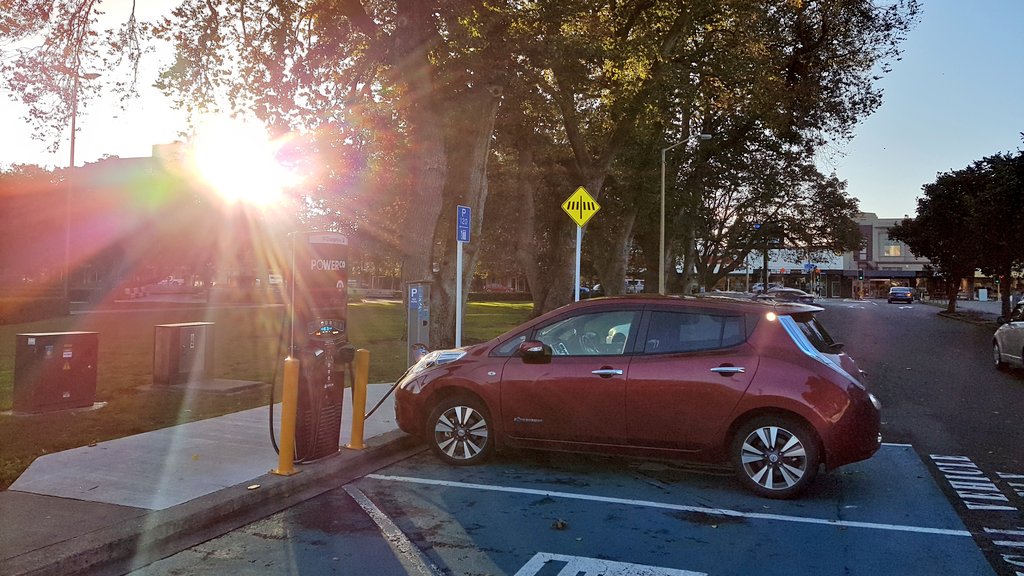 OK I'm on the last leg. I'm going to try hoofing it a little now, give it some gas – sorry, kilowatts – and see how it drives the last 70km home.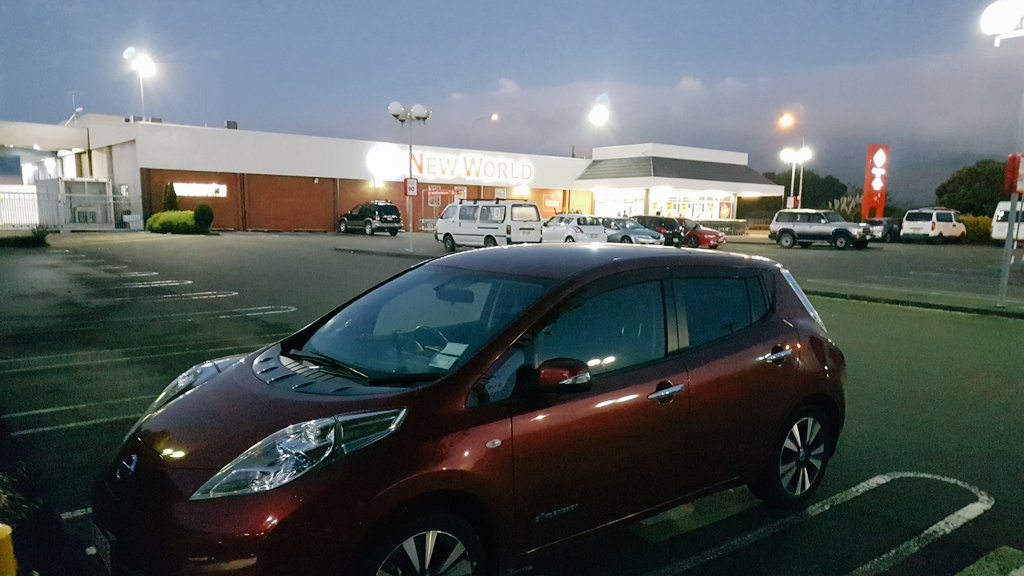 Home!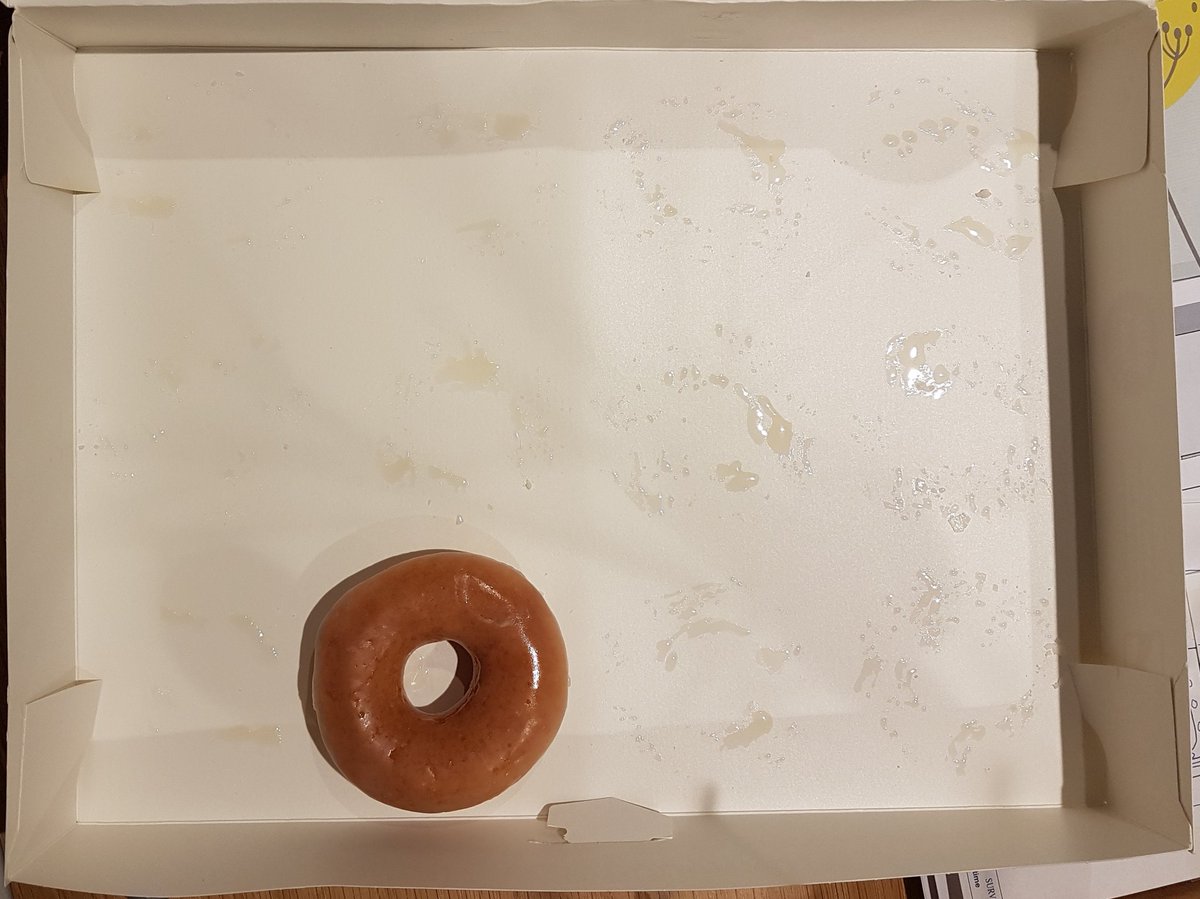 17 years ago I flew to Auckland, bought a new car, and drove it home. Last weekend I did the same with an electric car. Same route, completely different journey. It was fun.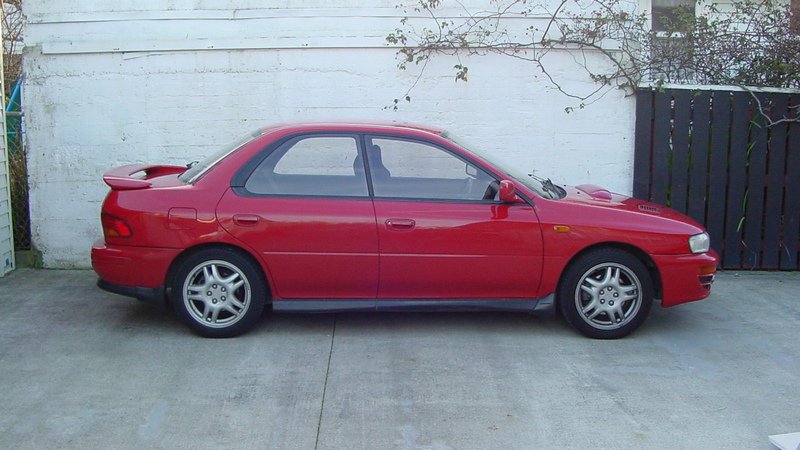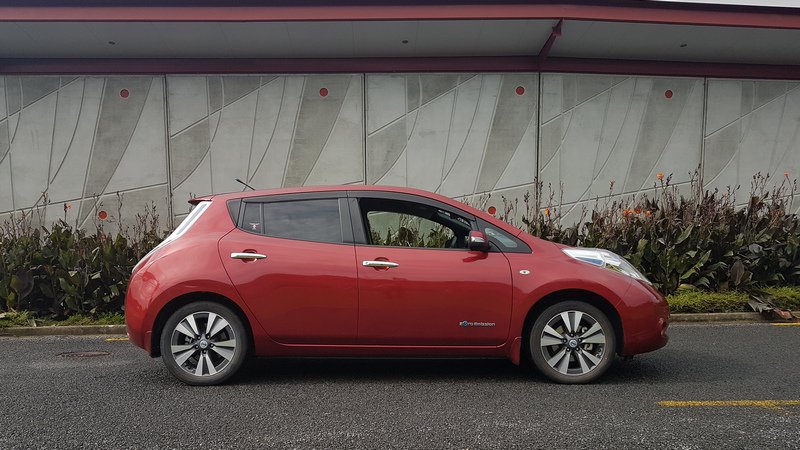 Some final thoughts on the trip:
1) 700km from South Auckland > Wellington, via Rotorua. 11 interim stops, all involving some level of charging. 16 hours total, door to door.
3)
I had to stop 11 times. ELEVEN TIMES! Even with my kids requiring toilet breaks and playground stops, I could do AKL > WGN with less stops.
4)
Overall I paid for $42.48 worth of electricity = $0.06 / km. My current car costs me $0.22 / km. (Remember these are rapid charging prices, not home-electricity prices.)
5)
I got lucky @ 1 chargenet station (saving $11) and found some free charges. The entire trip with all paid charges *could* have theoretically been $84. Still a great saving over my current car. Can't wait to see how cheap it is charging at home.
6)
So I saved $90 in fuel costs, but lost $800 in lost-productivity due to the extra 8 hours of driving time.
7)
Driving at 80-90km on the open road is fucking stupid. I understand the logic – and mathematically it computes – but I don't want to do that again. *If* I ever do a roadie, it'll be with a much bigger battery.
8)
In my Kombi, when I pull onto the rumble strip to allow cars to pass, I receive toots and see waved hands from at least half drivers passing me. Yesterday, NOT A SINGLE toot/wave. Nothing. No respect.
9)
The torque of the electric engine is actually quite surprising. I've driven many fast cars, and I was skeptical, but it's very impressive. Especially at higher speeds – it still pulls HARD at 110+km. I'd love to race it against my turbo Subaru.
10)
I really enjoy the driving position – the seat + steering wheel alignment feels great. It's a comfy setup. The steering is *very* responsive – point the car and it goes there.
11)
The drive is firm. On the G model – with the low profile tyres – it's solid, but not overly bumpy. The seats are perhaps a little hard, not ideal for long distance driving. This isn't an executive car.
12)
The cruise control of the Leaf is average. I bought the higher-spec G model intentionally for cruise (among other features) and believe the cruise on my 2007 Subaru functions better. No following distance cruise? Come on.
13)
Ultimately: it's just a car. I half expected a golf cart/go kart/shopping trolley experience, and half expected a life-changing solve-my-problems feed-the-world experience. It was neither. It's just a car. A practical car.
14)
The (useful) charging network isn't as comprehensive as I expected. When you start looking into the network, it looks like this: But in reality, for fast-charging a Leaf, it looks like this: There are currently gaps everywhere.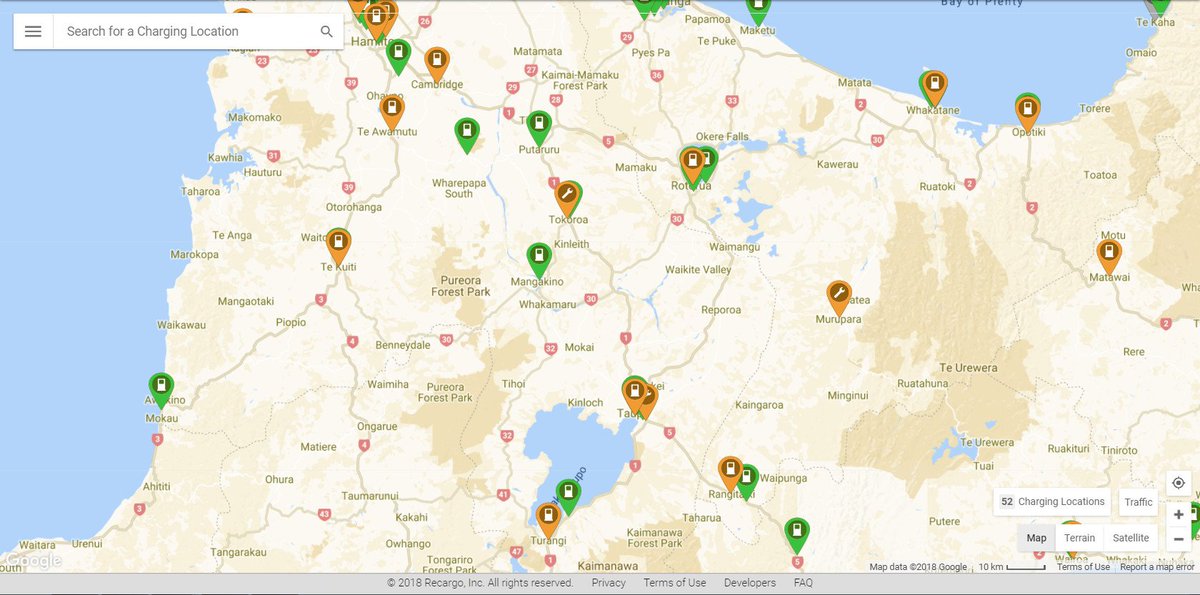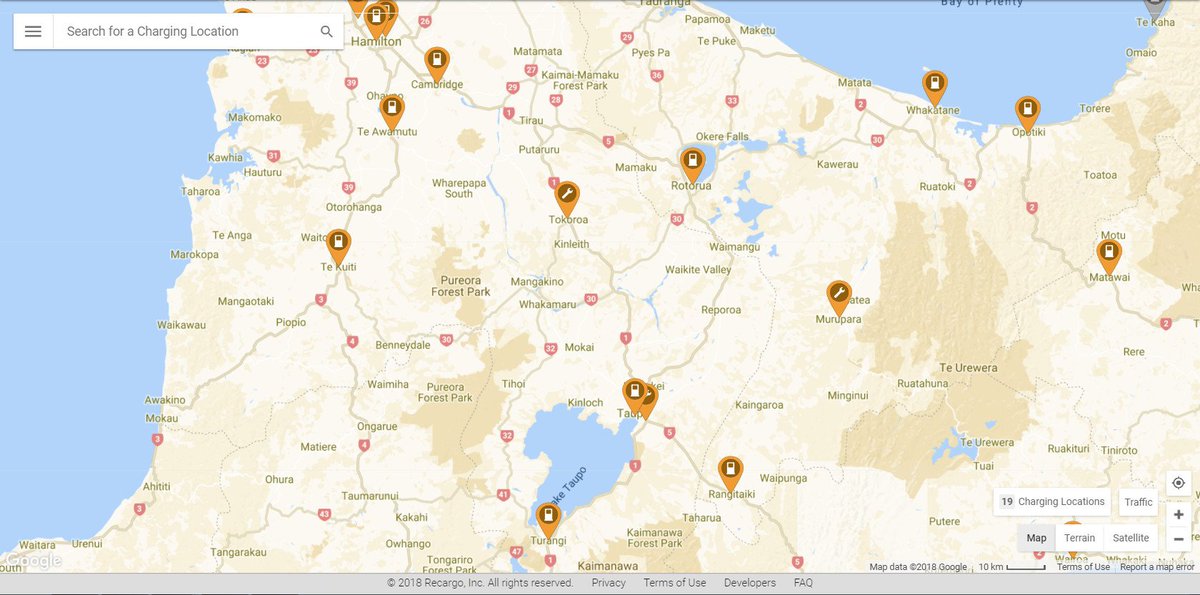 15)
In saying that, the rapid charging stations for SH1 *appear* very strategically placed. None closer than ~50km, none further than ~80km. I found the 80km sites a little too stretched for my car, but my journey was possible.
16)
Almost all of the charging outlets allowed 1 car at a time. I encountered other people at the outlet approx 50% of the time. I never had to wait more than 15mins, and never held anyone up more than 10mins. But…
17)
…whilst I believe some charging outlets only see a handful of cars per day, you could double the EV uptake across the country and start to run into some quick congestion. If I did this trip again in 12 months, I could imagine getting very frustrated.
18)
I drove 700km without a single drop of gasoline. That is amazing. I feel very smug about this.
19)
I will never* buy another ICE (internal combustion engine) car in my life.
* might make an allowance for another Kombi or a 1970s Corvette. 🙂
20)
Overall:
12/10 awesome experience
1/10 wouldn't do it again